The Ultimate Post Purchase Process Swipe-File

Let's talk about the real MVP of online shopping - the post-purchase process. Once your customers hit that buy button, it's time to buckle up and provide a seamless experience that delights them from start to finish. One major aspect of this process is order tracking. Sure, we all know the excitement of clicking that "place order" button, but what's the next step? Where's that package now?
How can you show your customers a clear, step-by-step process on where they can find their package that will score some serious brownie points along the way? Malomo has all the answers you need with our brand new Post Purchase Plays Library, available right inside our Order Tracking app.
Klaviyo email flows for all types of transactional email notifications, customer segmentations, integrations, and creative ideas--are all available with detailed illustrations, video tutorials and instructions. It's the ultimate order tracking swipe file. This extensive library of content includes over 40 plays to level up your post-purchase experience!
Countless customers have asked us for post purchase experience examples. We've given you tons of post purchase marketing examples and order tracking design ideas on our website, but now you can bring them all to life quickly and easily within the Malomo app.
Take your order tracking strategy to the next level with:
Tracking page ideas and instructions
15+ Order tracking notification flows
10+ Email segmentations
Various creative ideas to incorporate into post-purchase such as cross sell, direct mail, retargeting, and more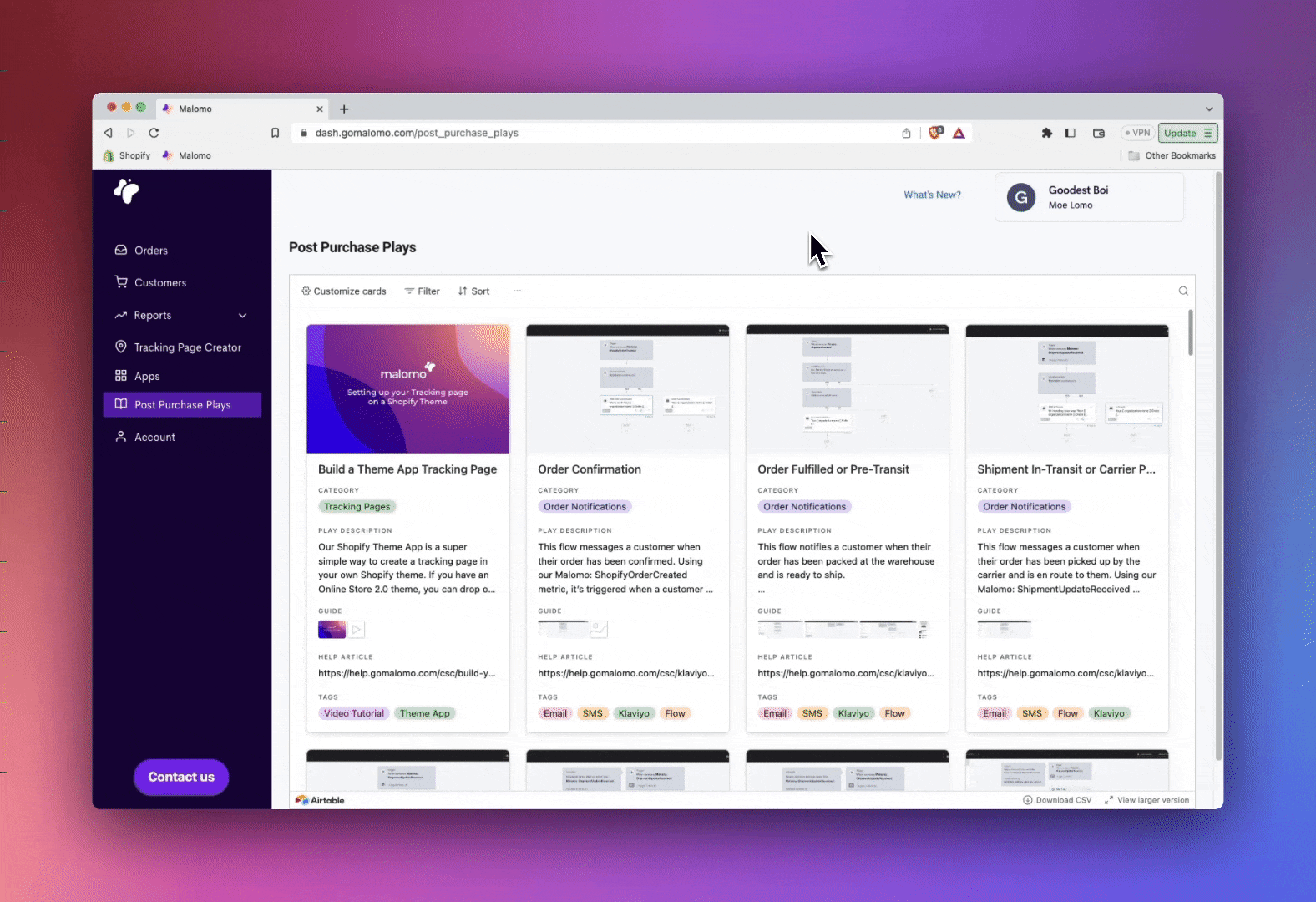 Existing Malomo customers can log in and access the library right away. If you aren't a Malomo customer but want to see some examples check out our top-recommended post-purchase Klaviyo flows:

4 POST-PURCHASE KLAVIYO FLOW EXAMPLES YOU SHOULD CONSIDER
New to post-purchase marketing?
The post purchase process encompasses the steps a customer takes after completing a purchase, including receiving an order confirmation, tracking shipping updates, and engaging with personalized messages and product recommendations. By leveraging the post purchase experience platform offered by Malomo, businesses can optimize these touchpoints to create memorable experiences and effectively engage customers.
By giving your customers a sense of control, keeping them informed with real-time updates, and answering their post-purchase questions, you're building a relationship and trust that goes beyond just one transaction. In short, if you're aiming for complete customer satisfaction and a lifetime of loyalty, order tracking is an essential element of your ecommerce post-purchase process –- trust us, they'll thank you for it!