Malomo Order Tracking for Shopify and Shopify Plus
Malomo's Shopify integration allows brands to go above and beyond what any other Shopify brand is doing post-purchase.
Branded order tracking is the key to a seamless post-purchase experience. Transactional emails and SMS alongside branded order tracking pages keep the customer-to-brand relationship active after a customer clicks the "buy now" button.
Your brand shouldn't be an afterthought, and branded order tracking keeps your brand at the forefront. Malomo integrates with Shopify and Shopify Plus so that your brand can:

Wow customers with your design skills: Create branded, customized tracking pages that put carrier pages to shame (UPS who?).

Notify your customers about important information about their order: Send your transactional shipping emails and SMS notifications through your email marketing platform or email service provider (ESP).

Analyze the nitty gritty detailed reporting to improve the post-purchase experience: Receive analytics on customer engagement and carrier performance to see how to optimize your processes.
A deeper focus on post-purchase communication
Customers want to know where their order is at. Whether their package will be delivered on time or delayed a few days, your customers want to be in the loop.
Shipping delays are inevitable, but your customer shouldn't be the last to hear about them. An order tracking solution like Malomo allows you to notify your customers if their shipment is delayed and direct them to the information they need about their shipment.
If your customer isn't informed about their shipment information, your customer support team is bound to be buried with "Where is my order?" tickets. WISMO tickets make it difficult to instill trust in your customers and take away valuable time from your support team.
With Malomo, your brand has ultimate control over customer communications.
Uncover hidden revenue and engagement from shipping emails
Malomo integrates with Shopify and your email marketing platform so that you can customize the timing, design, and messaging of your most opened emails—transactional shipping emails.
Transactional shipping emails are one of the most valuable emails you send out. Open and click-through rates are historically much higher than your average marketing email. Malomo merchants like ILIA Beauty have seen email open rates as high as 65% and click-through rates of 17%.
Why? Because your customer is giddy with excitement for their package to arrive. That anticipation and excitement make them more likely to engage with the email.
Shopify brands that implement branded order tracking see:

Higher email engagement

Stronger brand loyalty

Increased repurchase rate (even before the original package is delivered)

Reduced customer service costs

And more!
Go above and beyond for customers after they buy from your brand
Malomo allows you to inform customers each step of the way as they track their package in your brand's tone and voice.
Let's take Olipop, for example. Olipop has a unique way of capturing customers' attention with fun, nostalgic branding. With pops of color and conversational messaging, Olipop's order tracking page looks like an extension of their website.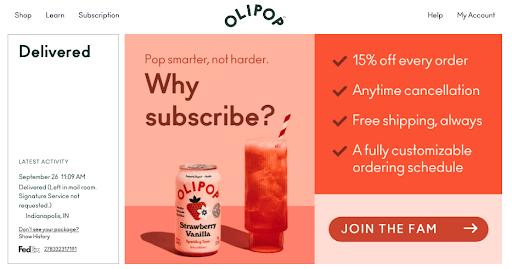 Branded order tracking is about going the extra mile for your customers because, let's face it, they have a lot of options. If they don't like one part of their experience, there are 10+ other brands to choose from. Branded order tracking helps Shopify brands cut through the noise of eCommerce.
Turn tracking pages from drab to fab
A Malomo order tracking page is viewed every second by customers who are anxiously awaiting their order.
There's a lot of power in that second.
When customers are directed to a branded tracking page, they aren't just shown a shipping timeline. They become immersed in a unique brand experience filled with engaging product videos, special offers, personalized recommendations, or educational content.

Utilize our Shopify Theme app
If you could build a stunning, high-converting order tracking page in 10 minutes or less, you'd probably jump at the chance. That's why we built an exclusive Shopify Theme Editor—no developer required.
This 'no code' option allows you to manage tracking pages easily inside your Shopify theme. Your brand can do practically anything with our Shopify Theme app including:

Partial shipment updates

Increase customer lifetime value

Decrease WISMO tickets

Control your brand in an easy drag and drop experience
Malomo and Shopify: Better together.
So far in 2022, there have been over 14 million shipments tracked which is around 100,000 packages a day. Don't waste another second with a generic tracking page.
The best part? It doesn't take long to implement a beautifully branded and personalized tracking page with our Shopify Theme App. We have all the resources you'll need to be up and running as quickly as your team can move!
Book a demo to get a closer look at how our integration with Shopify works.


Are you a Shopify brand looking to stay connected with your customers after they buy from you?
Learn how Shopify brands are using Malomo to do just that