Even today, email can be an effective marketing channel for most ecommerce businesses. Whether sent individually or as part of a more sophisticated email marketing campaign workflow using marketing automation software, marketers still use e-commerce emails as an effective medium in their overall marketing strategy to nurture leads and drive more sales.
We're going to discuss different types of ecommerce emails and show favorite examples of each kind.
Tips to Write Compelling Ecommerce Emails
Before we get into each email type, let's briefly discuss some tips on how to write compelling content that your email list will find engaging.
Think through the email's purpose
Unsurprisingly, different emails need to convey different purposes. Some emails are promotional while some are transactional emails like an automated welcome email sent to new subscribers.
Craft a quality subject line
The subject line is the single most important factor in convincing readers to open your email. Best practices generally state that subject lines should be around fifty characters. Newer studies also show that emojis can be effective in B2B or D2C marketing emails.
Match your from and reply-to emails
Matching your "from" email and your "reply-to emails" is a user experience best practice. This detail won't be an issue if you are sending emails through a personal inbox. Most marketing automation software separates the two fields. It's always best to send emails from addresses that can receive emails, so your prospects and customers can ask questions by directly responding to your marketing emails.
Add a clear CTA
Another seemingly obvious but often-overlooked detail in email content is adding a clear call-to-action (CTA) for the user. A CTA defines the action you want your reader to take. For example, if you are promoting a sale or offering free shipping, your CTA may ask the reader to click through to shop the promotional items.
In general, it's best to limit your CTA to one action, as calling for multiple actions may result in confusing your prospect.
Mobile Responsive Email Templates
A responsive ecommerce email template is imperative for all brands in this day and age. Customers are viewing emails from several devices that are of different screen resolutions. Some people still view their emails exclusively from their desktops while others switch between other devices like tablets and smartphones. Without a responsive email template, customers may face difficulty reading, clicking, or viewing what has been sent to them—across all devices.
Most marketing automation platforms offer many HTML email templates optimized for viewing both on desktop and mobile devices. Some platforms even offer templates that can be edited directly within a template builder in which users can drag and drop visual elements without the need to know HTML code.
HTML email templates
Fortunately, there are likely already a plethora of mobile responsive HTML email templates available for your specific ecommerce platform. A quick Google search should come up with current options, but for convenience, here are some links:
Promotional Emails
Promotional emails are familiar email types for ecommerce businesses. Nearly every online shopper has received an email promoting a sale. And for ecommerce businesses, packaging a sale promotion with an email marketing strategy can be some of the most effective ways to drive consumer revenue. Be sure to communicate a sense of urgency to your promotions, so the shoppers are compelled to purchase sooner rather than later.





Birthday Emails
A fun way to grow customer loyalty is through a specific promotional email—the birthday email, aptly named because it is sent on the customer's birthday. The birthday email will often contain a special promotional code or credit for the customer to use within a limited timeframe around their birthday. The code could offer a discount or add a special birthday gift when the customer makes a purchase.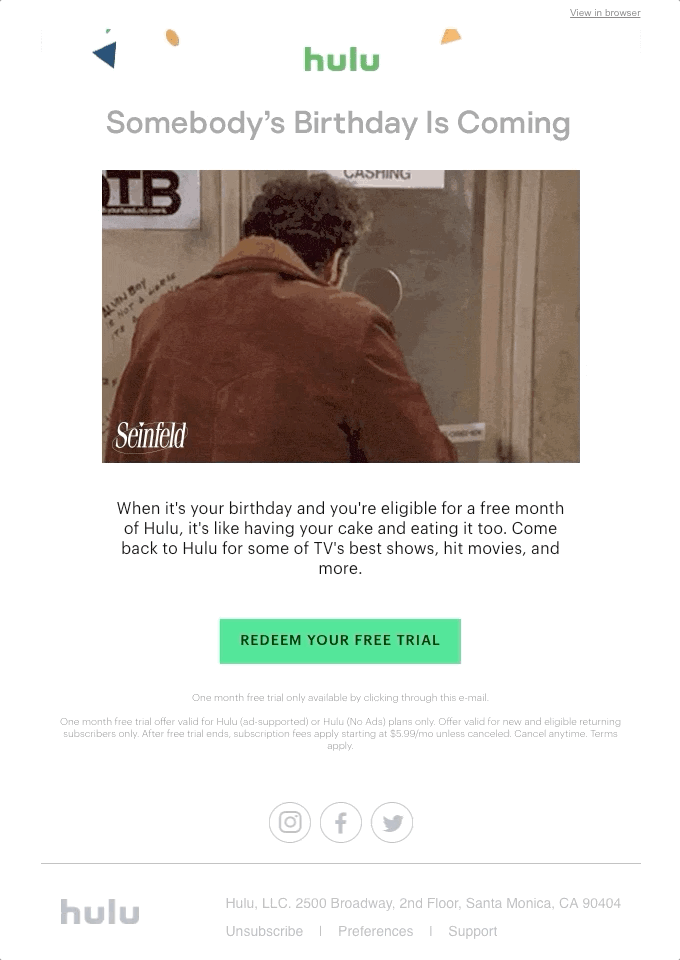 Cart Abandonment Emails
Abandoned cart emails are the highest converting types of email campaigns, and they are a large part of remarketing techniques. They are so effective that most popular ecommerce platforms like Shopify and WooCommerce now offer functionality to send these emails. Typically, these emails are reminders that trigger automatically when a prospect adds an item to their shopping cart but then abandons the shopping experience before completing the purchase. As an added incentive beyond the email, some ecommerce vendors will add in small discounts or offer free shipping to entice the prospect to make the purchase, turning the cart abandonment email into a type of promotional email.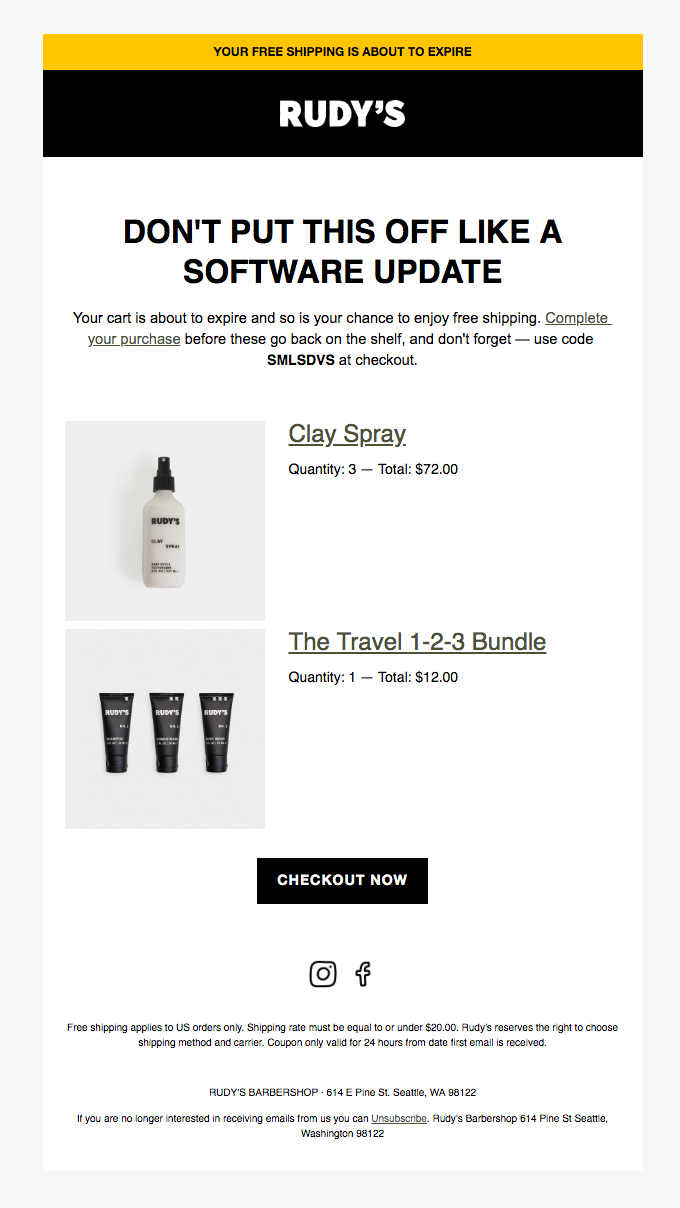 General Nurture Emails

Nurture emails are emails that offer educational content or other content of value to your prospect list. They are meant to "nurture" your leads through the buying funnel. Regular emails like company newsletters can keep you in your prospects' thoughts while getting ready to make a purchase.
Email newsletters can also help promote brand loyalty.





Transactional Emails
Transactional emails can seem a little less glamorous than other types of emails since they are usually part of the post-purchase experience after your customer has already gone through the checkout process.
However, the post-purchase experience can actually be one of the most important revenue-generating phases of the ecommerce lifecycle. The following are common and useful types of transactional emails:




Order Confirmation Email
The purpose of the order confirmation email is almost self-explanatory. Usually, it is an automated email that is triggered when a customer completes the checkout process. It will usually contain the purchase receipt and order details. It's also best practice to include a short thank you note to the customer.
At first glance, the automated order confirmation seems perfunctory and dry. Still, in fact, according to data released by Conversio, emails containing purchase receipts have an open rate greater than three times the average ecommerce email send. This makes order confirmation emails some of the most promising channels for upselling or cross-selling products.





Shipping Confirmation Email
After the purchase order has been processed and the item or items are ready to ship, another best practice includes sending shipping confirmation emails so that customers can track their delivery order.
On average, shipment tracking emails are opened 4.6 times for each online purchase. Using tools that integrate with your ecommerce platform, you can easily create a custom tracking experience to drive upgrades or additional sales.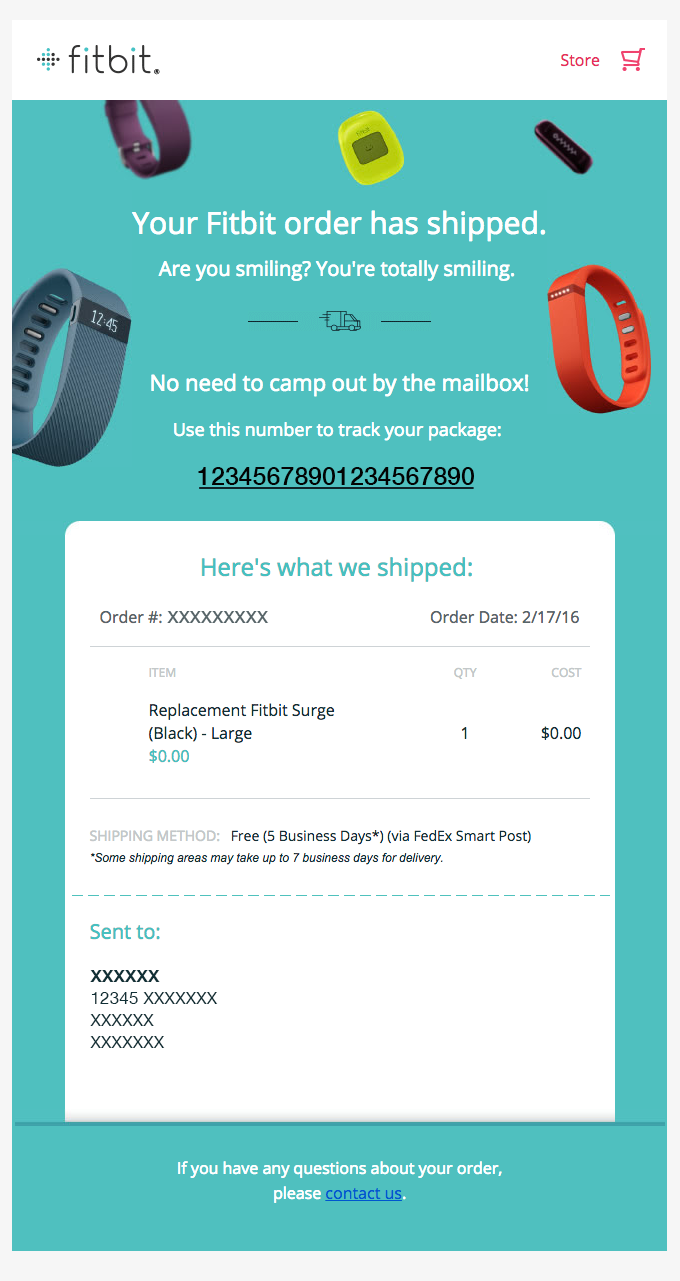 Follow-up Feedback Email
The feedback email is the most flexible post-purchase email, as it's easy to customize to meet your marketing and sales priorities. Typically, this email is used to check in with your customer and make sure they are satisfied with their purchase.
You can use this email to ask for feedback on the buying experience, request a product review, or offer a follow-up coupon towards their next purchase. Customize this email to capture your highest priority goal, whether it be more customer testimonials, driving sales, or collecting research.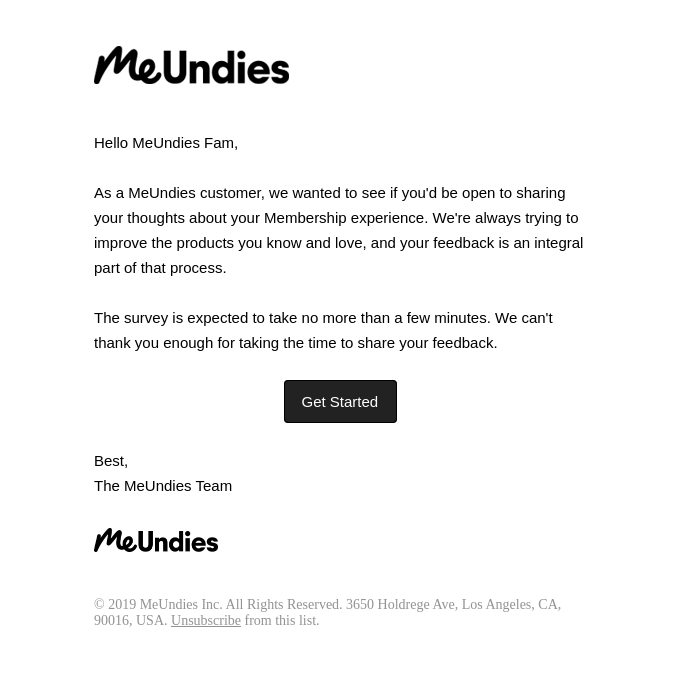 Replenishment Email
Most products have a lifecycle, and although the length of each lifecycle varies by product type and industry, eventually, most products need to be restocked or replenished. If your product has a lifespan of 2 years or less, it's a best practice to set automated email campaigns to remind your customers to place another order before their last purchase runs out or breaks down.
Marketing automation is imperative to scale these types of replenishment email campaigns. Products that require higher purchase investment (like cars, expensive appliances, or luxury items) should structure their account management organization so that reminder/replenishment emails come from human account managers.
For less expensive items, automated emails from a CRM will do. Be sure to invest in an ecommerce application that can trigger emails based on a product's last purchase date.
Remember, it's always easier to sell more products to customers than acquire new customers. Set up additional email nurture campaigns to keep your customer base engaged before their next restock date.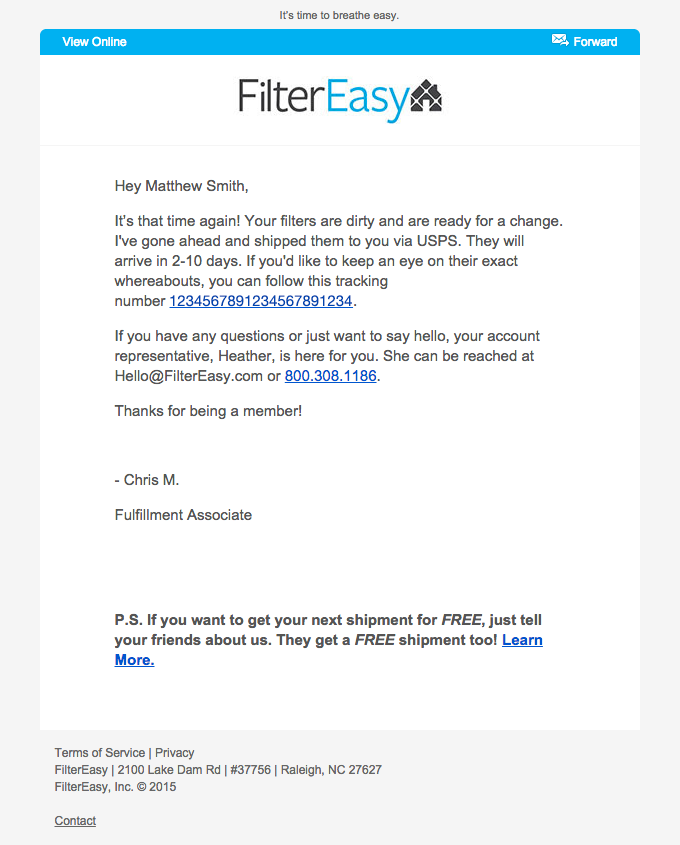 Drive Post-Purchase Sales with Automated Emails
Learn in this free ebook how to turn automated emails into opportunities to drive sales, build customer loyalty, and win more customers.