To run your ecommerce store successfully, you must provide your customers as much transparency as possible. Being transparent with the customers at the outset will help you avoid customer complaints later. Additionally, you must also be clear about what the customers should expect once they place an order. Most of the customers' questions, after they make a purchase, are about shipping. Developing a comprehensive shipping policy and sharing it with your customers is therefore essential for any online store.
What is a Shipping Policy?
Your shipping policy is a framework for how your business will handle shipments. A shipping policy defines how things like delivery times, shipping fees, refunds, transit time, and shipping methods will be governed by your business. Rather than being set in stone, a shipping policy is a living and breathing document that you can update any time based on your business' changing dynamics and the demands of your buyers.
Why is it important?
When placing an order, most online shoppers ask shipping questions. They want to know how much the shipping will cost when their order will be delivered and what options they have besides the standard shipping offered by the ecommerce store. Having a well-defined shipping policy will make it easier for you to answer these queries, and it will also provide your customers with a better overall experience. You can also use the shipping policy to mention any shipping restrictions so that your customers do not have to be disappointed later.
Elements of a Shipping Policy
The elements of a comprehensive shipping policy include shipping rates for different destinations, the destinations or shipping zones allowed, shipping timing, returns, the refund policy, local delivery charges, and any other details like special offers and exceptions.
An example of a shipping policy
Here's an example of a shipping policy displayed on a webpage of an e-commerce store.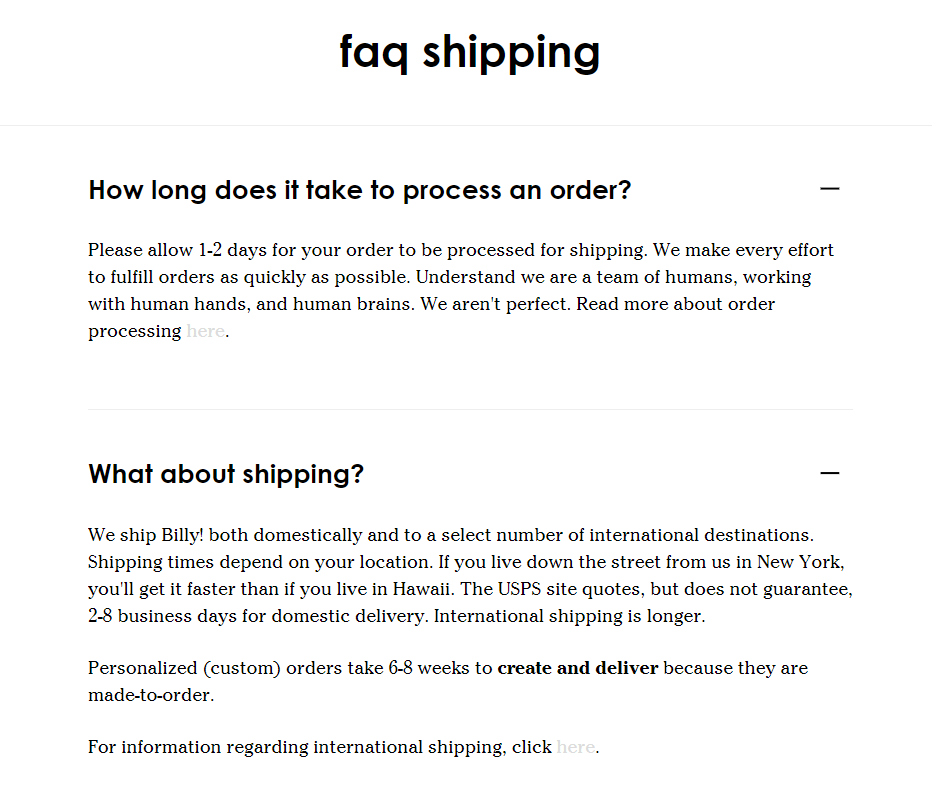 Breaking down the example
Domestic and international shipping rates
If you are offering international shipping and domestic shipping, it's a good idea to include the rates for both kinds of shipping in your shipping policy. Suppose you cannot quote the exact rates for international shipping due to unexpected shipping costs that you might have to fulfill due to changing laws and regulations of international destinations. In that case, you should mention this possibility in the shipping policy. This will allow the customer to know what to expect.
Local delivery
Some businesses offer discounted rates for local delivery. If you are one of those businesses, you should definitely highlight this point in your shipping policy. This will not only provide more clarity but will also encourage more local sales.
In-store pickup
If, along with an ecommerce platform, you also run a brick-and-mortar store, you can add the option of in-store pickup for your customers. Customers who prefer instant pickup over waiting for their order to arrive home will like this option more.
Estimated shipping times
As you can see in the example above, it is essential to mention estimated delivery times for different destinations. Customers are very aware of shipment tracking, so don't think of this detail as an afterthought.
Handling time and cutoff times
In conjunction with estimated shipping times, set customer expectations for handling times, and communicate order cutoff times when fast shipping might be necessary.
Shipping to P.O. boxes
Though most sellers avoid shipping to P.O. boxes, some companies like Amazon do ship to P.O. boxes. In case you offer P.O. box delivery, it is essential to mention all the terms and conditions related to it in your shipping policy.
Handling refunds, returns, or exchanges
Another integral element of a shopping policy is how you will handle the refunds and returns. It may be feasible for some companies to allow the exchange of products, but it might not be so for others. Whatever the case may be for your business, it is always best to keep the customer informed.
Where to Link Your Shipping Policy
Creating an elaborate shipping policy will be of little use if your customers don't know where to find it. The following are some best practices for linking your shipping policy to your store's website.
Display clearly on a web page
It's best practice to dedicate a web page to your shipping policy for domestic and international customers. Adding an FAQ section is a thoughtful detail, so visitors can easily find the answers to common shipping questions. Shopify also has shipping policy templates you can study to help you create a concise and comprehensive shipping policy page of your own.
Link the page in the website footer and other key pages that need to be easily accessible, such as the privacy policy.
During the checkout process
To make it easier for your customer to access your shipping policy, link both the shipping policy page and FAQs page to each product page. This way, customers will get a chance to view and analyze the shipping policy to smooth out the checkout process.
Frequently Asked Questions
How do I create a shipping policy on Shopify?
Shopify shipping policy can be created from Shopify admin. To make the policy, go to the "legal" section, and go to the shipping policy section. This section will allow you to create a custom template to add the shipping options of your choice.
How do I calculate shipping costs?
Shipping costs can be calculated based on the product's actual or dimensional weight, the delivery destination, freight charges, taxation, order quantity, order value, and the return on investment for each one of them. Each carrier will offer different rates based on these factors.
How does shipping work with Shopify?
You can choose to outsource shipping to a third-party logistics provider, handle it yourself, or, to make matters easier, use the Shopify built-in shipping suite to handle your shipping. Shopify shipping provides sellers all the necessary tools that need to run their operations smoothly.
How do I offer free shipping on Shopify?
You can choose to offer free shipping on all kinds of orders or only for orders that meet specific criteria. To offer free shipping on all orders, go to the shipping section using your Shopify admin, click manage rates, and set the price to 0. If you want to offer free-shipping only with orders that exceed a particular value, you can achieve that by clicking the "Add conditions" section and adding the necessary condition.
Elevate the shipping experience with Malomo
On average, buyers check shipment tracking emails 4.6 times for each purchase. Leveraging this high engagement rate is a breeze Malomo, which helps you turn your shipment tracking into proactive, beautiful, custom-branded landing pages that boost sales.
Summary
Creating a well-defined shipping policy is essential for all ecommerce businesses. An acceptable shipping policy lays out all the shipping elements in a straightforward and easy-to-understand way. These elements include the rates for domestic and international shipping, handling times, delivery times, return policy, and special requirements. Ideally, after going through a shipping policy, the reader should have no unanswered queries about shipping.