Email marketing is a major topic. An effective email starts with its design. Most email platforms and email clients are compatible with the new web standards. As a result, there are now few impediments to sending out responsive email messages to desktop and mobile users without having to make any sacrifices when it comes to design. The purpose of responsive email is to make sure that receivers perceive emails the same way no matter the device they used to open the email.
Read this article to learn more about delivery notification emails and to see some examples that you can model your own email template after. The examples should help you create an effective email template that will improve your relationship with your customers and help you boost the number of orders and loyal customers.
Order Confirmation and Delivery Email Templates
In this section, we will analyze examples of email templates for a variety of delivery email and order confirmation notifications. Read on to learn exactly what made these specific examples so successful in terms of keeping customers informed about what they purchased and when they can expect their product to arrive.

A good example of an order confirmation and delivery template is the Boll & Branch template. This template is very simple and straightforward, yet informative. The template includes the order number and tracking details, such as the tracking number, status, and the courier. At the bottom of the email template, the customer is given resources to use if they have any questions or concerns. The email template features a number and email address that customers can use to contact a representative. There is also a link in the email template that customers can click on to learn about how they can care about their new purchase.
Another excellent example of an order confirmation and delivery email template is the Allbirds template. One difference between the Boll & Branch template and the Allbirds template is that the Allbirds template includes the image, name, and price of all the products in the order. This is beneficial because it makes the email more useful for the records of the customer. There is no need for the customer to go to the vendor's website to look at the products they purchased in the order. Overall, the Allbirds template is also straightforward and to the point. At the bottom of the email, there is a link that customers can click on to return or exchange their product within 30 days. This link in the email template boosts transparency and encourages a sense of trust between the vendor and the customer.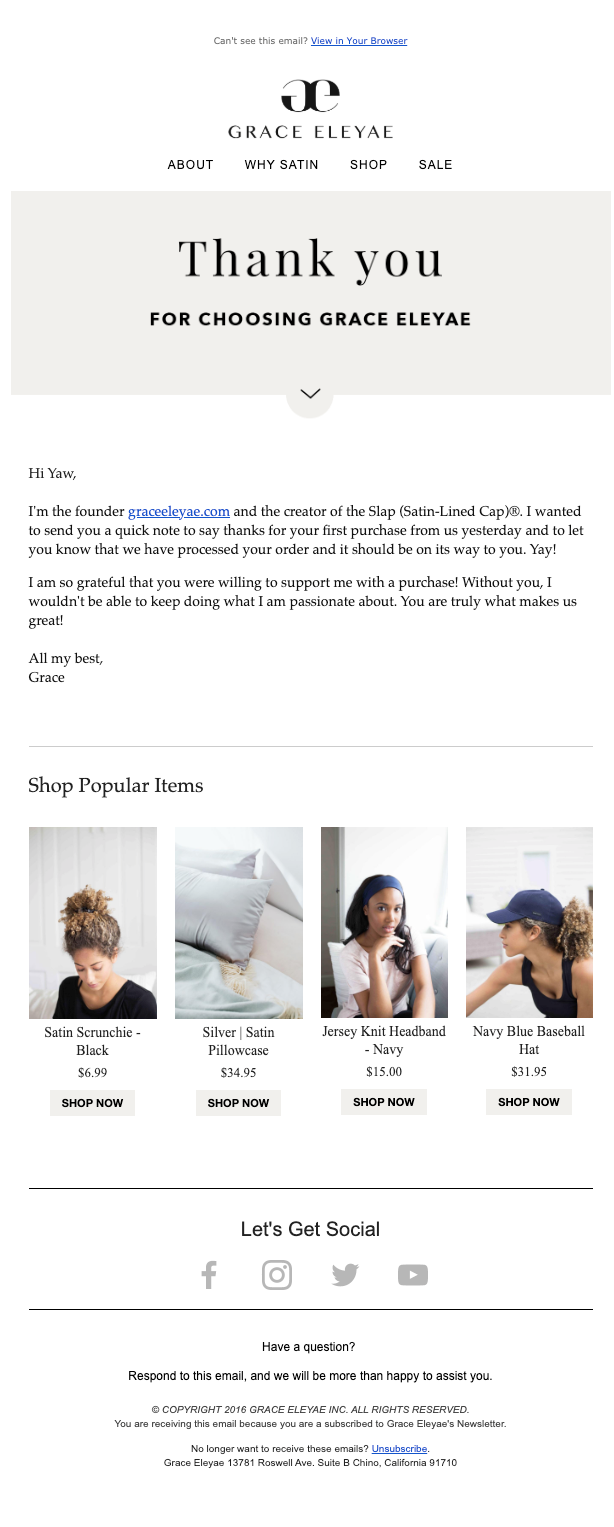 The Grace Eleyae email template is yet another good example of customer service email response samples, order confirmation email template, delivery notification email sample, order confirmation email template html code, mailchimp order confirmation email template, and order email template. This email template tells the customer what they need to know, which is that the order has been successfully placed. The email mainly consists of a letter to the customer thanking them for the order. This message helps build rapport between the customer and the vendor. The message is intended to make the customer feel that they are a part of something greater by helping contribute to the mission of the vendor. The email also includes a list of other products that the customer might be interested in. This element takes advantage of the fact that customers tend to be the most energized to make another purchase after making an initial purchase.
Order Confirmation Emails
There are a number of reasons why order confirmation emails are important for the success of marketing campaigns. The first reason is probably easy to guess. Order confirmation emails allow users to know that the vendor has received or processed the order. The order confirmation emails provide customers with an order number.
Customers are able to use the order number to contact the vendor or look up shipping information. There is also a visible receipt that the customers can save. The visible receipt provides them with all the required information about delivery dates or expected shipment.
There are also emotional reasons for sending order confirmation emails. Making a purchase can invoke emotion in customers. This emotion may range from unease to excitement. In general, the emotions generated will depend on the relationship the customer has with the vendor and how they are feeling about spending money online. In general, the ideal order confirmation email will boost the excitement associated with the purchase and reduce any feelings of unease.
Of all types of emails, order confirmation emails have the highest open rates. On average, order confirmation emails have an open rate of about 70 percent. In general, people take about 14 seconds to read order confirmation emails. In comparison, other types of emails are read for a maximum of about eight seconds when opened. About 64 percent of customers view confirmation emails to be of the most value. Pay close attention to sample email to customer for business, sample letter to expedite delivery, purchase order confirmation email sample, order notification email templat, order confirmation email to buyer, and shopify order confirmation email template.
Order Status and Order Shipped Email Templates
It is essential that you let your customers know when the order has shipped. You should also provide customers with information to track their package by using tracking number email template, order dispatched email template, letter to inform delivery date, material ready for dispatch mail, order status email sample, pre order email template, order status email template, reply mail for purchase order, and delivery lead time letter.
In your order status and order shipped email templates, you should be sure to use straightforward and clear language for the transactional emails. One mistake that many people make is using witty or clever language for the subject lines of order status and order shipped email templates. However, the use of this language can be confusing. It is ideal to use simple subject lines like "Your order has been shipped" or "We've shipped your package".
Even if your order status and order shipped email templates are well-designed, it is possible that many of your customers will still delete the email without having opened it. If this is true, you don't have to worry. The email will have still served its function. According to data, these emails have open rates that are much higher than normal. However, even if the email isn't opened, the information will clear in the subject line. Therefore, you will still have created a good positive experience with your brand for the customer.
Shipment Notification Status Updates
When the delivery status changes depending on the shipment notifications, it is important that you are proactive when it comes to notifying customers. It is also important to update customers when an issue or update occurs when it comes to their shipment. This will encourage your customers to trust you and will help you build a relationship with customers. Overall, the last thing you want to do is keep your customers in the dark when it comes to the status of their order.
Shipment notification status updates will help your customers overcome any anxiety about making a purchase for a brand. It is well-known that if you include a tracking link, the end of the bargain has been fulfilled. The tracking link is confirmation that the customer has made the right decision buying from the vendor.
Shipment notification email template, shipping email sample, and shipping information email are all important. In general, the shipping confirmation email is what customers will interact with the most out of all the components in the shipping confirmation email. Therefore, you should use the tracking link as the call-to-action. Be sure the button or link stands out.
Delivery Email Template
It is also important to send your customers an email when the order has been delivered. Important information should be included, such as the shipping address. This will allow customers to confirm that the package was sent to the correct location. There is also customer support information like the contact information of the sender. You should also include instructions in the email that the customer can follow if the package is not delivered to the correct destination in a timely manner. Take a look at sample email of delivery notice, sample letter for acknowledging delivery of goods or service, sample letter of delivery of goods, your order is ready for pickup email template, product delivered email template, delivery mail format, customer service email templates PDF, and sample email templates for customer service.
Email Template for Requesting New Orders
It is also important to have an email template for requesting new orders. As soon as an order for a customer has been shipped, delivered, or even just placed, you should send an email requesting additional orders. After the initial purchase, customers tend to be the most excited to purchase additional items. Therefore, it is a good idea to send an email as soon as possible to ask for additional orders.
In the email, considering including some suggestions for additional products that the customer could buy based on what the customer originally purchased.
Letter to customer asking for new order, how to ask customer for new order email, request for new orders from existing clients, and letter to supplier asking for delivery are all of vital importance. A good email template is necessary if you want to keep your customers informed. Good email templates will also help boost positive emotions, such as excitement, and reduce negative emotions, such as unease. Fortunately, a top-notch email templates typically consists of just a few key elements. As long as you follow the tips discussed above and you model your email template after the examples of the email templates discussed above, you should have no problem creating an email template that serves your customers the best. For more information about the importance of having well-designed delivery notification emails, don't hesitate to contact us. You can also reach out to us if you would like more advice about how to improve your various delivery email templates.